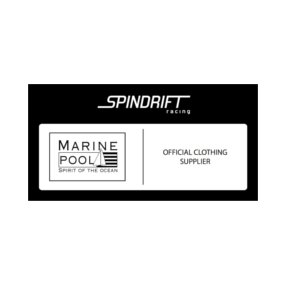 The Spindrift Racing Team based in La Trinité-sur-Mer will be equipped with Marinepool sailing and sportwear clothing. This partnership involves the five projects managed today by Spindrift Racing: the Ladycat D35, skippered by Dona Bertarelli who is a top skipper in all major competitions on Lake Geneva; the GC32 catamaran which races around Europe with the Racing Tour; the largest racing multihull yacht ever built, Spindrift 2, acquired to conquer new records (formerly known as Banque Populaire V) ; the Diam 24 trimaran, and finally, the M32 catamaran which has started his first season on the World Match Racing Tour in 2016.
Through this long-term collaboration, Marinepool will gradually optimize its technical product range and develop new prototypes tested by Yann Guichard, one of the most experienced skippers in ocean multihull racing. Whether for manufacturing technologies, garment features or ergonomics, Marinepool will develop new products in accordance with Spindrift Racing's feedback.
The Jules Verne Trophy remains an abiding and engaging target, one that the team will once more challenge in the winter of 2017.
WEBSITE:
Spindrift Racing