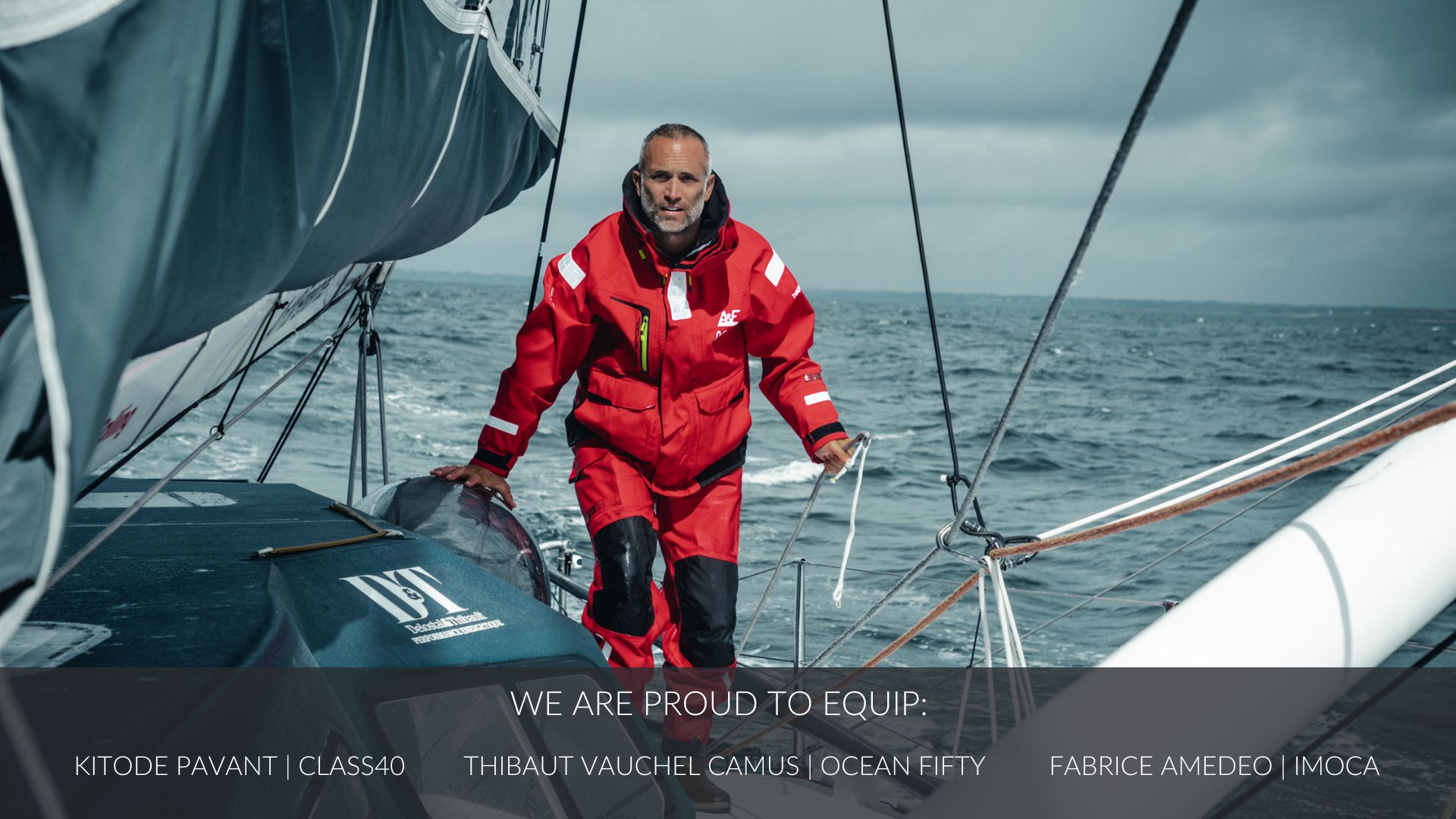 On the 6th November 2022, 138 skippers - a record for the Route du Rhum - will set off from Saint-Malo with destination Guadeloupe!
Created in 1978, this legendary race is the queen of solo transatlantic races today.
Three of the 138 solo sailors will be equipped by Marinepool. They'll represent three of the six boat classes.
Fabrice Amedeo will sail in the IMOCA category, which brings together all 60-foot monohulls. Aboard a new boat named Nexans - Art et Fenêtres which is equipped with large foils and a recycled Sail, Fabrice Amadeo will in addition to his sporting ambitions collect data on ocean pollution. Therefore, sensors for meassuring CO2, salinity, ADNe, microplastic and a temperature are installed.
In the Ocean Fifty class, Thibaut Vauchel Camus will compete his third Route du Rhum on board the Solidaires En Peloton – ARSEP. He finished 2nd and 3rd in the past two editions, and is looking forward to conquering the podium a third time. For that he as to master more than 75,000 miles aboard his multihull. He will be sailing for le bleu d'Arsep, a foundation supporting research on multiple sclerosis.
In the Class 40, Kito de Pavant will be starting the solo transatlantic race for his third time on board the HBF - Reforest'Action. The skipper from Languedoc has crossed the Atlantic over forty times. On his way to Saint-Malo, Kito de Pavant is well prepared: "The only stress I have, as usual, is not to forget anything, like bread or a plug to recharge...".
The Marinepool team is proud to equip these determined sailors. In the most extreme conditions, they will be warm and dry, and nevertheless, still free to move.
We wish our loyal partners fair winds and following seas on their big crossing!