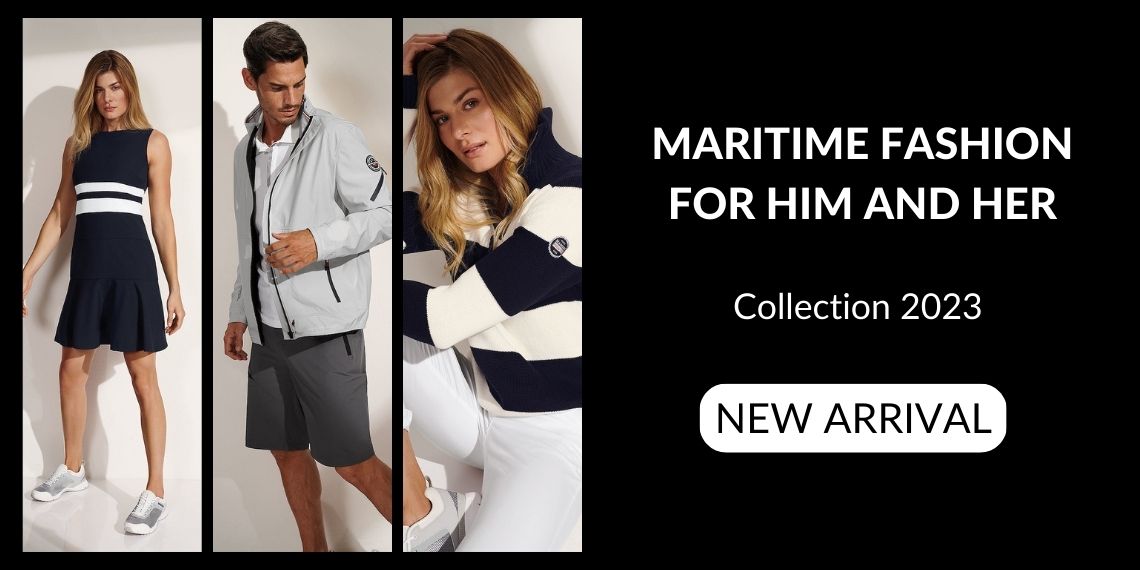 Summer Collection 2023 by Marinepool
Our new summer collection 2023 combines maritime lifestyle with technical and fashion aspects. New in our technical fashion is the Kin Sweat Jacket Unisex - warming, quick drying and antibacterial in a clean look. We have also added the classically chic softshell jackets Halmstad for men and St. Anna for women to our range. Both captivate with the perfect balance between fashion and performance - breathable, waterproof and windproof.
The outfit is completed by our new polos. Hilde captivates in a maritime look with quick-drying and UV-protective properties. Sophia is especially suitable for individualizing with logos. As a counterpart for men we offer on the technical side the Holm long and short sleeve polo. The stretchy polo is quick-drying, antibacterial and protects against UV rays.
Another novelty is our Largo Reversible Midlayer Jacket for men, which can be zipped into our upper-layer jackets, such as the Hobert and MP Performance Jacket. For the filling of the Largo we use Primaloft® made from recycled polyester. Primaloft® is a technical insulating filling, which impresses with breathability, lightness and softness.
Furthermore, we present four new unisex hoodies. Brendon and his jacket counterpart Marlon, as well as Bellino and his jacket twin Merlin. All are cozy warm, have large pockets and are in navy. Brendon and Marlon are designed with our lettering on the chest. Bellino and Merlin are kept simple with room for custom branding.
Women will love the navy striped sweater Ada as well as the Mano Troyer. Both warm perfectly on cool summer days. A wide women's sweater is Alva, where we played with our lettering.
On warm days our new dress Mary is the perfect choice - sporty-chic and very comfortable. If you prefer t-shirts, take a closer look at Tilda for women and Jari or Larsen for men. Our t-shirts are made from organic cotton in line with our sustainability goals.
The Régates Royales collection will also expand again in 2023. Included is our feminine white cotton blouse Astrid and the partner look shirt Aron for men. For linen fans we have designed the casual duo Michelle and Sören in striped light blue and white. Sporty-chic convinces our new ladies jacket Denise. And finally, the polo shirts Fine and Fabrice for men and women are available with maritime stripes on the sleeves and Régates Royales embroidery on the chest.