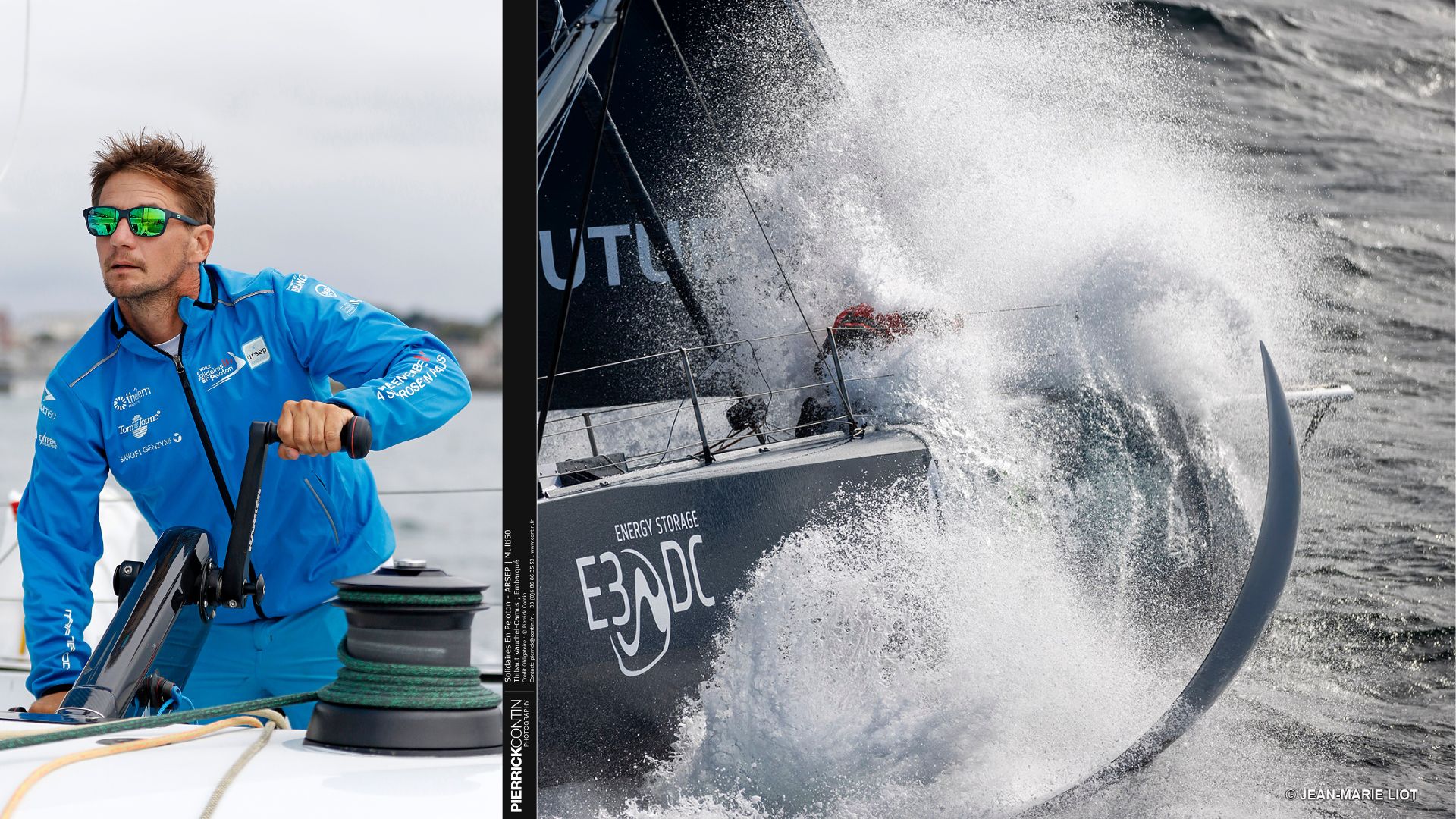 Fabrice Amedeo
Rescue operation on 13/11: On Sunday morning, the Imoca skipper Fabrice Amedeo experienced the toughest sailing hours of his life during the Route du Rhum ocean race –
first, the braking of a water ballast tank, than the water contact of the boat's battery bank, and finally the day after, an explosion on board his "Nexans Art et Fenetres" followed by fire.
Amedeo was forced to abandon his ship. Suited in survival suite and equipped with a satellite mobile phone he escaped in his life raft from the sinking ship.
However, he had to face that the satellite phone was no longer working. He activated an EPIRB (Emergency Position Indicating Radio Beacon), prepared his distress flares, and put the VHF around his neck. He sent out a mayday call every 30 minutes. A cargo ship not far from his position received his distress call and started the rescue operation under difficult conditions.
The captain of the cargo ship later told Amedeo, "You're alive because you told me, 'I'm about two miles off your starboard side'."
The high waves made rescue difficult. Amedeo was eventually able to jump over to the freighter, while a wave carried his raft higher, and climb on deck.
On board the freighter, Fabrice Amedeo wrote: "I am safe and sound on the freighter... I am devastated but the happiest man because my wife and daughters do not have to go to bed crying today."
The Marine Pool team's thoughts were with Fabrice throughout the rescue operation. We are aware that the extraordinary and extreme regattas carry high risks. Accordingly, we are happy about the successful rescue operation and that Fabrice survived this unharmed.
Thibault Vauchel-Camus

On Saturday evening, Thibaut Vauchel-Camus capsized in the Route du Rhum offshore race.
Until the accident, he was leading the Ocean Fifty class. His trimaran overturned around 240 nautical miles north of the Azores, in difficult conditions and strong gusts. Earlier, Thibaut Vauchel-Camus had passed through a fierce cold front that shook almost the entire fleet. News of damage accumulated among the various participants.
As the race organizers announced, Vauchel-Camus is well. After hours of holding out in the center hull of his boat, he was pulled to safety by a lifeboat on Sunday morning.
Marinepool has been closely following the course of this dangerous situation. We are impressed by Thibaut Vauchel-Camus' performance and courage and proud to have equipped him on his adventure.