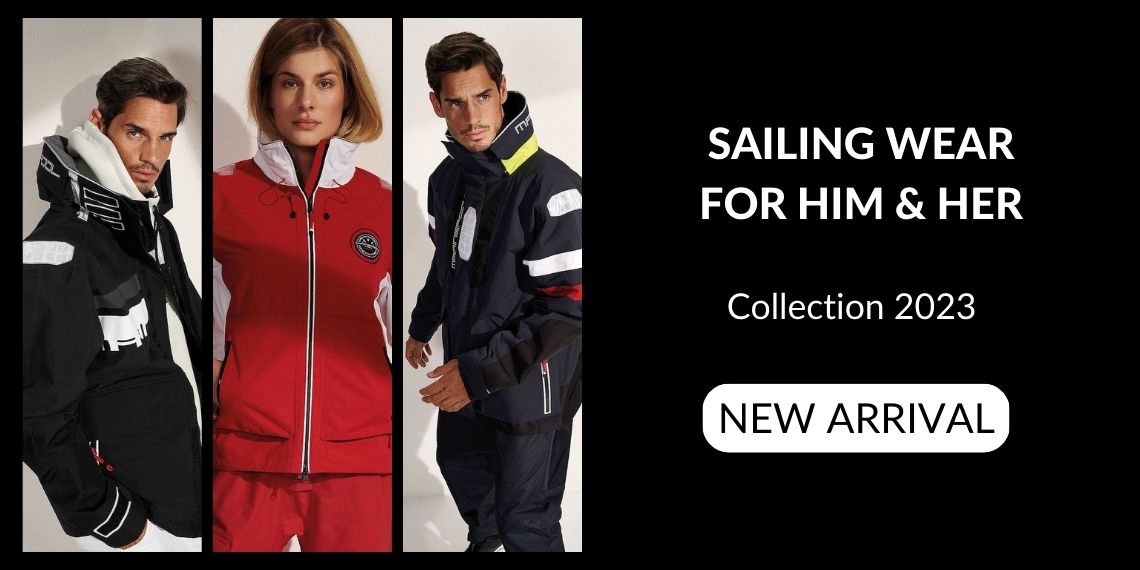 Sailing Wear 2023 by Marinepool
It is with pleasure that we introduce our new sailing collection 2023. In line with our environmental goals, our new jackets are 100% PFC free! In addition, the jackets can be repaired optimally, as they are equipped with a zipper in the lining to access the inside of the jacket. It also allows personalized embroidery to be applied without damaging the jacket. The collection consists of three jackets - one Inshore and two Coastal jackets.
Our two new Coastal Jackets, Sonja and Langholm, find their creative origins in Marinepool's first sailing collection and transfer that look to our modern times. The Langholm Coastal Jacket for men features a classic, simple design without sacrificing performance. The water-repellent zipper is additionally protected by a double bar. Reflectors on the chest and shoulders provide good visibility alongside the bright yellow stowable hood. The design of the hood allows for 180° visibility. The high collar protects against inclement weather. The neoprene edging of the collar end prevents skin irritation. The lining of both jackets is divided into two zones. On the upper chest, a technical lining allows for optimal breathability. Sonja is our new Coastal jacket for women. Its design combines a feminine look with high performance. An inner placket serves as additional protection at the exposed, water-repellent zipper. Reflectors are placed on the shoulders for optimal visibility.
Our new Gotland Ocean jacket is inspired by developments in boat building. High performance requires a technical clean look that radiates coolness and lightness. The design is therefore kept simple and does without many colors. The stylized lettering and the reflective stripe above it serve as eye-catchers. The reinforcements on the elbows and shoulders are instead attached by heat-transfer. The jacket has a water column of 20,000mm. The water-repellent front zipper is additionally protected from water by a double bar. The raised and lined collar is individually adjustable in width. The stowable hood is highly visible due to its bright yellow dun. The cut of the hood allows a 180° view. A wire is sewn into the upper edge of the hood so that the hood shape can be adjusted individually. Reflectors are placed on the shoulders at the chest and on the hood for optimal visibility. The lining of the jacket is divided into zones. The upper body is lined with mesh to ensure optimal breathability. The sleeves and the lower body are lined with taffeta. The two-way zipper allows quick access to trouser pockets under the jacket. Gotland features two interior zippered pockets and four exterior pockets. Two of the outer pockets offer extra storage space according to the bellows principle and are designed to be waterproof. Underneath the bellows pockets are two water-resistant, lined pockets to warm up your hands. Against premature wear we use the double fabric CorduraTM at the body and sleeve openings.